Merlin "Shorty" Hinkle (Nov 13, 1905 – Feb 25, 1977)
He was born Merlin Hinkle in Mount Carmel, Pennsylvania, USA on November 13, 1905. He became known in the circus world as Shorty Hinkle.
Childhood
Merlin was the second son of Amelia Hepler, daughter of Pitman, Pennsylvania farmers, and Joseph Oliver Hinkle, an anthracite coal miner. At the age of four, he had been rescued from a house fire by his older brother Eugene, who also saved their two-year old brother, Joseph Lamar. Their mother died in the blaze. About two years later, his father re-married. Eugene and Merlin went to live on a farm owned by their grandfather's brother, Daniel Hepler. From the time he was six, until he joined the circus, he was raised by his mother's family on the Hepler farm.
Young adult
Although his brothers were normal sized, Merlin only grew to four feet six inches tall. Hence, the nickname "Shorty". In 1929, Shorty, decided that he didn't want to work in coal mines or silk mills as his family did. He answered an ad in "The Billboard"magazine for clowns on the "All American Circus". The Circus folded 2 months after Shorty joined, leaving Shorty stranded. He then found work on the Downie Bros Circus for 15 dollars a week.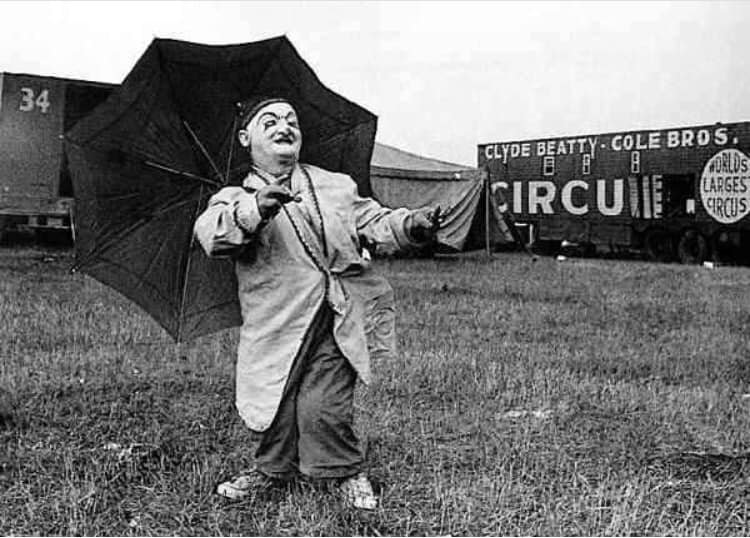 Circus years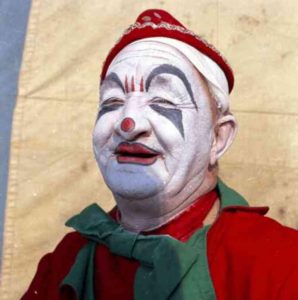 Shorty worked with many shows during his 50-year career, They included Hagenbeck Wallace, Millers Bros. 101 Ranch, Cole Bros. Pickman-Gerty (carnival), Clyde Beatty Circus, E. K. Fernandez Circus, and many years with the Clyde Beatty Cole Bros.
Shorty Hinkle was an excellent semi driver and drove for Clyde Beatty Cole, in a truck with pedals raised to accommodate his four feet six inch height.
Shorty's later years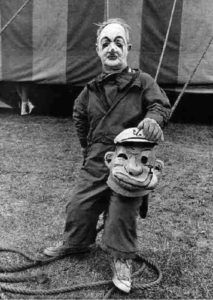 When he became ill in the 1970's, he returned to Pennsylvania to live with his brother in Ashland. But, he hated the cold weather so returned to Florida. Shorty passed away Feb. 25 1977 in Sarasota. Florida, USA.
(You can see in the photo of Shorty holding the Popeye mask, he actually had 6 fingers on one hand)
Bibliography