Jimmy "Happy" Williams was born in Milwaukee, Wisconsin. In 1961, he landed his first job in clowning when he was hired to perform at Mayfair Mall in Milwaukee. He took his name "Happy" from his respect for tramp clown Happy Kellums. Chappie Fox went to Milwaukee to take a look at Jimmy. Impressed by his interaction with children, Chappie brought Jimmy to the Circus World Museum in 1962. After his first season at Baraboo, Jimmy spent two year stints with the Kelly-Miller and Famous Cole Circuses before joining the U.S. Army.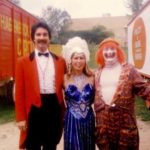 En route to Germany he was assigned to entertaining the troops on board ship. He continued entertaining as a magician at many NCO and officers clubs while stationed in Germany. Jimmy moved to Baraboo permanently in 1967, and worked at Circus World on and off until the early 1970's when he joined the full time staff. Now he has been with Circus World for over 25 years. During the summer season his hectic daily schedule includes several full make-up applications and performances,. Happy has touched audience members visiting the museum from around the world.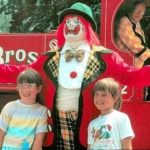 Jimmy "Happy" Williams was inducted into the 1995 Clown Hall of Fame
Sad to say, Jimmy "Happy" Williams has passed away this last weekend.
https://www.youtube.com/watch?v=A_GPuAdWj0U