Lucy Writes a Play – I Love Lucy episode 17, originally aired 2/4/1952
Lucy writes a play for her woman's club, but when Ricky won't perform it, she changes it from the Cuban setting A Tree Grows in Havana to an English setting, The Perils of Pamela with Fred as the lead. Ricky later changes his mind when he learns that a Hollywood talent scout will be in the audience, but he's using the original script while everyone else uses the new version.
Lucy Writes a Play is available on the season 1 I Love Lucy DVD collection.
I Love Lucy Quotes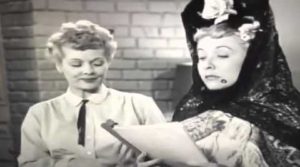 Ethel (Vivian Vance) [reading from Lucy's script]: You look very pretty, Lucita. Your hair is shining, your eyes are bright, and your nose is continued on the next page.
---
Ricky Ricardo: Excuse me, Mrs. Shakespeare, but would you mind telling me what this is all about?
Lucy Ricardo: Well, you see, all the women's clubs in town are having a big play writing contest.
Ricky Ricardo: I knew it, I knew it. This had to do with the Wednesday Afternoon Fang and Claw Society.
Lucy Ricardo: It's the Wednesday Afternoon Fine Arts League. Gee, just think, if our play wins I just might become a big, famous playwright. I might become another Tennessee Ernie.
Ricky Ricardo: That's Tennessee Williams.
Lucy Ricardo: Oh.
---
Ricky Ricardo: [Ethel enters in a flowing black outfit bedecked with veils and gaudy jewelry] Who are you supposed to be?
Lucy Ricardo: Well, what do you think?
Ricky Ricardo: The Bride of Frankenstein?
Ethel Mertz: Well!
Lucy Ricardo: She's a Spanish senora.
Ricky Ricardo: She suffers in the translation.
---