The Wackiest Wagon Train in the West – starring Bob Denver, Forrest Tucker
I was fortunate to find "The Wackiest Wagon Train in the West" in the dollar bin at my local Wal-Mart the day after Bob Denver passed away. I'd heard of it, but never saw it (or at least I don't remember having seen it), so swept up by nostalgia, I picked it up. I'm frankly glad that I did.
In a nutshell, "The Wackiest Wagon Train in the West" is simply three episodes of "Dusty's Trail," an attempt by Sherwood Schwartz to re-create the success of Gilligan's Island, only set in the American Old West. The basic casting is the same – the seasoned wagon-master, performed very well by Forrest Tucker, the well-meaning foul-up Dusty, played by Bob Denver, effectively re-creating his Gilligan character, a millionaire and his wife, a starlet, a "girl next door" (a schoolmarm in this case), and an educated professor, all trying to make it to California during the Gold Rush time period.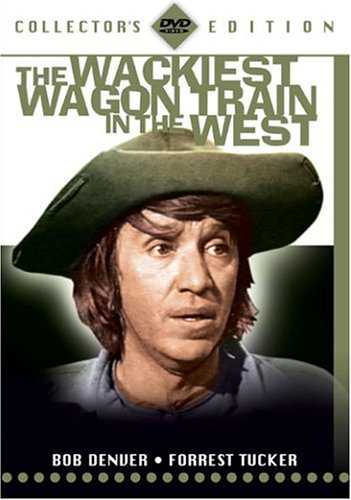 I was pleasantly surprised. "The Wackiest Wagon Train in the West" was much more reality-based than Gilligan's Island, which was perhaps its' downfall, but it was amusing, funny, and with some physical slapstick well worth watching. For example, there is a scene where Dusty is demonstrating to Andy (the Professor-type character) how he injured the wagon master's hand, with classic slapstick that is both old and fresh (I won't give it away here, despite the temptation). My children, aged 11 to 4 years old, have watched it at least a dozen times, and have asked to watch it again, as I'm writing this. Do I recommend it? Absolutely, especially for the price. Smiles and laughs should always be this cheap.

Funny quotes from The Wackiest Wagon Train in West, starring Bob Denver:
Dusty (Bob Denver) : Gee, that was a bright idea. Wonder why I didn't think of it!
Callahan (Forrest Tucker) : Because it was a bright idea.