Dusty's Trail – starring Bob Denver, Forrest Tucker
DVD review of Dusty's Trail – starring Bob Denver, Forrest Tucker – an attempt to re-create Gilligan's Island, set in the American Old West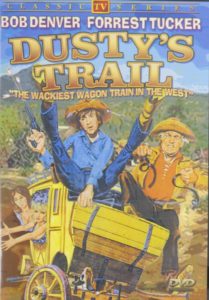 Okay, it's probably a stretch to refer to a television series that only lasted for 17 episodes as a "classic,"€ but €Dusty's Trail is still well worth watching, especially at its'€™ current price (under $10.00 American dollars as I write this). My interest in Dusty's Trail began as I was writing the biography for Bob Denver, the famous slapstick TV clown best known as Gilligan when he passed away recently. I'd not heard of €œDusty's Trail before then but was lucky enough to run across The Wackiest Wagon Train in the West,€ a compilation of three episodes of Dusty's Trail in the dollar bin at my local Wal-Mart. I was pleasantly surprised by what I found.
In a nutshell, Dusty's Trail€ is an attempt by producer Sherwood Schwartz to re-create the success of Gilligan's Island, only set in the American Old West. The basic cast is the same – the seasoned wagon-master, performed very well by Forrest Tucker, the well-meaning foul-up Dusty, played by Bob Denver, effectively re-creating his Gilligan character, a millionaire and his wife, a starlet (Jeannine Riley), a "girl next door"€ (a schoolmarm in this case), and an educated professor, all trying to make it to California during the Gold Rush time period.
The Wackiest Wagon Train in the West€ was much more reality-based than €œGilligan's Island,€ which was perhaps its'€™ downfall, but it was amusing, funny, and with some physical slapstick well worth watching. My children, aged 11 to 4 years old, have watched it over and over. Do I recommend it? Absolutely, especially for the price. Smiles and laughs should always be this cheap.
Editorial review of Dusty's Trail – starring Bob Denver, Forrest Tucker, courtesy of Amazon.com
Bob Denver, Forrest Tucker. When one of the wagons from a wagon train heading west to California gets separated from the rest of the train, Dusty (Denver) takes control and becomes the guide with the most hilarious and unproductive results. 17 episodes on 2 DVDs. 1973-74/color/7 hrs., 5 min./NR.