Editorial review of Mr. Bean's Holiday starring Rowan Atkinson, courtesy of Amazon.com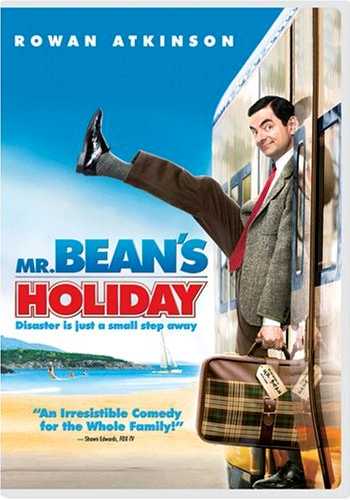 Welcome back, Mr. Bean! After a too-long hiatus, it's a breath of fresh air to see you out and about, innocent as ever, unwitting in the havoc you wreak and clueless in the chaos you cause. In Mr. Bean's Holiday (the title echoes Jacques Tati's breezy 1953 classic Mr. Hulot's Holiday), the resourceful man-child Bean (Rowan Atkinson) wins a church raffle that packs him off to the beaches of the south of France.
But getting there is all the funny, as he is detoured by one mishap after another. En route, he comes to the "aid" of a Cannes Film Festival judge's young son, who is separated (no thanks to Bean) from his father at the train station. Bean also stumbles upon a commercial shoot directed by a stereotypical egomaniacal American filmmaker (Willem Dafoe), and crosses paths with an aspiring actress (a charming Emma de Caunes) also on her way to Cannes.
Mr. Bean's Holiday, an upgrade over the 1997 feature Bean, was a box-office smash around the world, but in the States, not so much. Here, the shock gag has replaced the sight gag, and this G-rated Holiday might be considered by more jaded viewers as out of step with contemporary tastes (unlike Borat, there is not a mean-spirited bone in Bean's gangly, malleable body). But in the classic tradition of the silent-movie clowns, Bean's visual comedy is universal and requires little translation (there are limited subtitles in this film). Younger children will find a kindred spirit in Bean, who exists in some kind of state of grace, whether trying to digest a disgusting seafood dinner or hilariously lip-syncing to an opera in a public square. —Donald Liebenson
Product Description of Mr. Bean's Holiday, starring Rowan Atkinson
Rowan Atkinson (Bean, Love Actually, Johnny English) returns to his iconic role as the comical and endearing Mr. Bean in this outrageous comedy adventure! Mr. Bean (Atkinson) can't believe his luck when he wins a camcorder and an all-expense-paid vacation to the French Riviera. But during his train journey to the south of France, he falls face first into a series of mishaps and fortunate coincidences, all of which are caught on camera and far-fetched enough to ensure his own makeshift entry into the Cannes Film Festival!