Home
»
Famous Clowns
»
Happy hobos and sad tramps – Character of the tramp and hobo clown
Happy hobos and sad tramps – Character of the tramp and hobo clown
The  character clown is widely thought of as the  tramp or  hobo, but it can encompass many other things. For instance, a cowboy clown, virtually all of  Red Skelton's TV characters (Sheriff Deadeye, Clem Kaddiddlehopper, the mean widdle kid, Cauliflower McPugg, etc.), Carol Burnett's famous wash woman character,  Tim Conway's equally famous 'little old man' character, Urkel from the TV show "Family Matters," etc. are all clearly clowns, though definitely not either a whiteface nor an auguste clown. The vast majority of clowns in this category, however, are clearly tramps and hobos.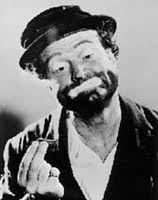 The  Tramp clown is a distinctly American invention, although he is now popular in European circuses as well. The most well-known Tramp is clearly  Charlie Chaplin's "Little Tramp,"  Red Skelton's Freddy the Freeloader, or  Emmett Kelly's "Weary Willie." The generic Tramp character assumes a "down-on-his-luck" approach to life. His costume appears tattered and torn (a performing clown should never have a shabby or unclean costume), and things do not go well for him.
The  hobo, on the other hand, has much more of a "devil-may-care" attitude. Although in the same position as the tramp (costuming and make-up may be virtually identical), the hobo is not unhappy about his situation. He knows that everything will turn out all right. A well-known example is  Red Skelton's clown character, "Freddy the Freeloader."
Makeup of the Tramp and Hobo clown
The Tramp/Hobo make-up can be thought of as a modified version of the Auguste. A skin tone base, with simple accents around the eyes. Depending on the type, you may want to include '5 o'clock shadow', as  Red Skelton and  Emmett Kelly did—or not, as  Charlie Chaplin did. And, of course, the make-up would be different for a 'bag lady' characters. As always, the object is to enhance the natural features of the face, never to hide them. The clown takes his or her natural facial features and exaggerates; also, don't forget that many in your audience (in a walkaround, for example) may be further away—this is why the features are 'outlined' – examine  Charlie Chaplin's eyes, or  Freddy the Freeloader's mouth. For more detail on make-up, I recommend  Strutter's Complete Guide to Clown Make-up.
Costume of the Tramp and Hobo clown
The costume of the tramp or hobo would be nearly identical. The costume should look tattered and torn, but be clean. The impression can be of someone slightly down on their luck to someone who lives in the gutter, depending on the clown, character, and skit. For other characters, of course, that will drive the costume—for instance, Clem Kaddiddlehopper's costume is designed to project the his 'hayseed' character visually, a keystone cop would need to project that image, and so on. Again, the costume needs to visually describe the clown's character to the audience.
History of the Tramp and Hobo clown
The sad tramp/happy hobo are primarily American inventions, though  Charlie Chaplin's "little tramp" had European origins as well. Visually, the happy hobo/sad tramp was based on the American hobo riding the rails, wiping the soot away from the mouth & eyes to create the typical tramp look. Famous tramp & hobo clowns include  Don Burda's Homer,  Charlie Chaplin's Little Tramp,Emmett Kelly's Weary Willy,  Red Skelton's Freddy the Freeloader,