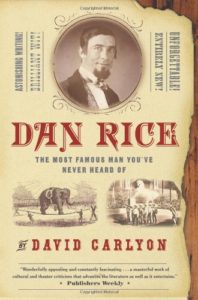 With a level of detail that surprised me, Dan Rice – the most famous man you've never heard of is a wonderful biography of Dan Rice, a man who was (likely) the inspiration for the look of Uncle Sam, but was much more than that.  A former strongman, animal trainer extraordinaire, a man who made and lost several fortunes, a man who was not unafraid to lampoon both politics and society at large, Dan Rice was a man who became the first mass-media figure by virtue of performing across the country, lampooning what he thought needed to be lampooned — until the American Civil War made it impossible for him to keep being himself.
Book Description of Dan Rice – the most famous man you'€™ve never heard of
Now in paperback: Carlyon's €"masterful work of cultural and theater criticism" –Publishers Weekly, (starred review)
Dan Rice had many lives. He was a pig presenter, a strongman, a lecturer, and a comic singer, all before joining the dazzling world of the circus. In 1855, he created Dan Rice's Great Show. Labeling himself the Great American Humorist,€ he toured the country and spoke out on issues of the day before large crowds. Swept up in a new cult of celebrity, he rose to become one of the most famous – and infamous – men in America. He even ran for president. So why have so few people ever heard of Dan Rice? Propelled by an urge toward refinement,€ American amusements began to stratify in the mid-19th century.
The raucous antebellum jumble of performers, audiences, and forms split along a new performance hierarchy of high and low. Circus, though still vastly popular, became seen as lowbrow. In that changed world, Rice's aggressive humor and robust connection with a noisy, participatory audience became seen as crude – and worse -a civic threat. David Carlyon weaves a remarkably rich portrait of turbulent times that raised one ambitious, creative man to glorious heights and then, embarrassed by its enthusiasm, buried him in sentimentality and finally oblivion.
About the Author of Dan Rice – the most famous man you'€™ve never heard of
David Carlyon has worked as a clown, actor, director, playwright and university professor. He lives in Larchmont, NY with his wife and two sons.
Part 1 – A Perfect Rush: 1823—1847
Home, Sweet Home
Go West, Young Man
Learned Pig, Learning Dan
"Circus"
Clown to the Ring
Part 2 – One-Horse Show: 1848—1852
Spalding and Spicy Rice
Reading, Not Acting Clown
Foreclosure
One-horse Story
Like a Phoenix
Alternating Ringmasters
Curses, Foiled Again!
Part 3 – The Great American Humorist: 1853—1856
The Barnum of New Orleans
See the Elephant
People's Choice
$100,000
Bearded in His Den
Dan Rice's Great Show
Servis Renderd
Hey, Rube!
Part 4 – Something Higher: 1856—1860
Cabinet of Curiosities
Genius for Fun
Excelsior!
Daniel McLaren
Grammatical Assassin?
The End?
Ring Cycle
Part 5 – The People's Candidate: 1860—1867
House Divided
Southern Sympathy
Union, Alias Peace
A Muted Voice
"Colonel" Rice
Rice for President
Part 6 – Reverse of Success: 1868—1883
Folly to Fight
Paris Pavilion
Is Life Worth Living?
Part 7 – Old Uncle Dan: 1884—1900
More Fun Than You Can Count
Snake Oil
Honest Abe's Uncle Sam
Notes
Bibliography
Permissions
Index