World's Funniest Clown Skits by Barry DeChant
World's Funniest Clown Skits is a truly nice collection of skits, broken up into 4 areas – skits for 1 clown, for 2 clowns, for 3 clowns, and for 4 or more clowns. One nice touch is that wherever possible, the author(s) of the skits are identified, as well as clowns who had a major impact on the development and/or performance of the skit.
It's a healthy collection of nearly 50 classic skits, including the Busy Bee skit (versions for 2, 3 or more clowns), boxing match, the Banana Illusion, the Hamburger Stand (aka. I'm quick), as well as descriptions for how to build any special props (such as the long shirt).
I recommend it highly and rate it 4 clowns on a 5-clown scale.
Table of Contents
One Clown
Busy Bee (one person)

A classic skit, described in more detail under 'Three Clowns" — in the 1 clown version, the clown pretends to be two clowns to perform the skit

Carpet Layer

A classic skit, adapted from an old rodeo gag — as the clown lays down 1 end of the carpet, the other comes up, torturing him further each time as he vainly tries to get both ends down.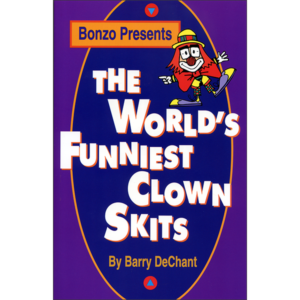 Cooking Lesson

A very nice skit, using the concept of 'listen to the audio tape instructions' as the clown sets the table — only to have to pull the table cloth at the end ala the magician's trick.

Dove in the Bag

ESP-Mindreader #1

Suckers on the Line

Two Clowns

Baby Bill

Banana Bandana

Broom Swing

Busy Bee (Two Persons)
Clown Shoot-OutDead and AliveDisappearing WaterESP-Mindreader #2ESP-Mindreader #3Hamburger StandPaintersThe PickpocketRing-RingStagecoachStargazerTalking MachineTelescope
Editorial Reviews
The author, Barry DeChant, June 16, 1998
Great material for scout groups, drama clubs, and clowns.
These skits are identified by number of clowns (persons) needed to perform this. Many are classic circus skits, while some have been written within the last 5 years. This author has another book, "Bonzo's Complete Book of Skits, Volume 1" which contains even more skits. Hope you enjoy these fun items.
The publisher, Piccadilly Books, Ltd , November 8, 1999
Book Summary
This book contains 50 of the most hilarious, high spirited, comedy clown skits of all time. The most popular new skits as well as classic favorites with new twists are included. Each of the skits have been carefully selected for ease in presentation and high audience appeal.
Written and compiled by award-winning clown, Barry "Bonzo" DeChant, a former president of the World Clown Association. DeChant has brought together in one volume some of the funniest clown skits he has experienced during his many years as a professional entertainer and clown instructor.
Each skit is categorized for one, two, three, four, and more clowns, making this book a perfect resource for a solo performance or a group extravaganza.