Bonzo's Complete Book of Skits, Volume 1, by Barry DeChant
Bonzo's Complete Book of Clown Skits, volume 1 is a very nice collection of skits, time tested and clown-approved. It includes skits for a single clown, 2 clowns, 3 clowns, and clown troupes, and is divided accordingly.
Publisher's Description of Bonzo's Complete Book of Skits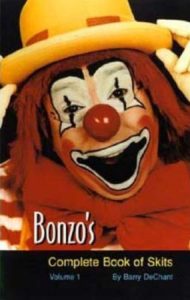 This book contains 50 of the most hilarious, high-spirited, comedy clown skits of all time. The most popular new skits as well as classic favorites with new twists are included. Each of the skits have been carefully selected for ease in presentation and high audience appeal.
Written and compiled by award-winning clown, Barry "Bonzo" DeChant, a former President of the World Clown Association. DeChant has brought together in one volume some of the funniest clown skits he has experienced during his many years as a professional entertainer and clown instructor.
Each of the skits is categorized for one, two, three, four and more clowns, making this book a perfect resource for a solo performance or a group extravaganza.
Table of Contents for Bonzo's Complete Book of Skits
Includes: Skits: What, Why, The Elements
One Clown:

Disappearing Cracker
Don't Bug Me
Magic Scarves
Standing On A Cup
Walk Arounds

Two Clowns:

Cotton Candy
Disappearing Water
Dog and Hoop
Hamburger Stand
Have a Seat
High Diver
Just One Hand
On A Date
Paint Co.
Painters
Pizza Man
Right Toe
Sharpshooter, Stagecoach
Telephone Call
Tumblers
Two on a Chair
Washday
What Time is it?
Whip cracker

Three Clowns:

Space Age Cleaner
The Box
Levitation
Mary Had a Little Lamb
Long Shirt
Strongman
Fire, Fire

Four or More Clowns:

Mary Had a Little Lamb
Cheerleader
Construction Co.
Teeterboard
Seascape (a story)
Restaurant
Twelve Days of Clowning.