Melissa & Doug – Magician's Apprentice Volume 3 – Rope Tricks Untangled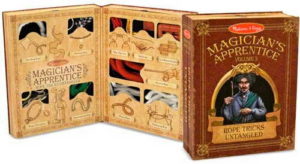 Something I like to do is investigate children's magic sets, and see if the various props are anything that I would use in my clowning.   I was pleased with the results from  Melissa & Doug's Deluxe Magic Set, and I was interested in looking into their set of rope tricks as well.   Unlike coin and card tricks, I feel that rope magic tends to lend itself to clowning.  I typically keep a 1-foot length of rope, and a three-foot length as well, in my pocket as I clown, simply because I have a variety of simple clown tricks that I do with them.   The question is, does  Rope Tricks Untangled work for clowning?
The answer is, yes and no.   Some of them are simply fit only for children and wouldn't be fit for a public performance.   Others, however, such as the "transformation rope" (color changing shoelace) and "mystical rope" (gimmicked rope that goes rigid) lend themselves to clowning or even comedy magic.   It needs to be noted that the "mystical rope" does make a slight "clinking" sound that has to either be covered up, or played for humor.   It also needs to be mentioned that in  Mark Wilson's Complete Course in Magic, they give a method of making a homemade rigid rope that technically works better.   In addition, there are a pair of "illusion ropes" that are a well-made pair of magician's ropes.   All of those work well, and I've already begun adapting them to my clowning.
Chapter 1 – Gimmick Tricks
Penetrating Rope
Phantom Ring
Phantom Ring Drop
Magic Rope TrioVanishing Rope
Ball Escape
Ring of Deception
Mystical Rope Tricks

Horizontal LIne Trick
Diagonal Line Trick
Vertical Line Trick

Cut and Restore Chamber
Transformation Rope
Chapter 2 – Basic Rope Tricks
Getting Started
Dissolving Knot
Sneaky Slip Knot
Sliding Knot (beginner)
Sliding Knot (advanced)
Cut and Restore Rope
Product description of  Melissa & Doug's Rope Tricks Untangled
These fabulous, new sets are loaded with professional-quality magic devices and gimmicks. They include step-by-step instruction booklets with detailed illustrations for performing dozens of impressive tricks. Boxes fold like a book for easy storage. These include specialized ropes, accessories and instructions for more than 17 tricks. They measure 18€ x 11.5 x 2 and recommend for children above 8 years.