Ernie Blinko Burch (1929 – 1997)

Born around 1929 in Linden NJ.   At age 15, he ran away from home and followed the  Ringling Bros. circus to Georgetown Texas.   He eventually joined them as   a whiteface clown.   Over the years he was with several   top name circuses. Ernie appeared in 17 scenes of the movie "The Greatest Show on Earth". It was  Cecil B. DeMille who gave him his clown name, Blinko, because of the 2-1/2″ green eyelashes that he wore. Ernie used a  whiteface make-up, and his eyelashes and treble cleft in the middle of his forehead were his trademarks.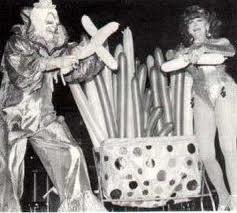 He kept a home In Sarasota, Florida for wintering and his eventual retirement.   In the late 1950's, he had a   TV show based out of Chicago.   Around 1963, he was hired (along with his wife Maran) by Circus Circus as their Ambassador of Goodwill and appeared in the casino circus shows.
He also was their Santa Claus during the Christmas season, his wife playing Snowflake at his side.   At age 65, after 50 years as a clown, he wanted to retire, but Circus Circus made him an offer to stay and he stayed another   2 years.   He finally got to retire to his home in Sarasota FL around 1995.   His retirement was short, as he died from cancer in 1997.