Safety Last! (1923) starring Harold Lloyd, Mildred Davis
Synopsis of Safety Last!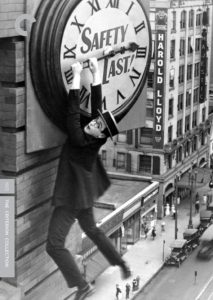 With its torrent of perfectly executed gags and astonishing stunts, Safety Last! is the perfect introduction to the comic genius of Harold Lloyd. He plays a small-town bumpkin trying to make it in the big city, who finds employment as a lowly department-store clerk. Laugh-out-loud funny and jaw-dropping in equal measure, Safety Last! is a movie experience par excellence, anchored by a true legend.
Editorial review of Safety Last! courtesy of Amazon.com
The best-remembered film by the great silent comic Harold Lloyd is still a hair-raiser. The bespectacled Mr. Lloyd plays an earnest young chap who goes to the city to make his fortune, although $15 a week from a department store is the best he can muster. After a string of ingenious visual gags, the movie climaxes with a wild sequence in which Harold, trying to win a prize by drumming up publicity for the store, arranges for an agile friend to climb up the side of the building. Natch, the friend can't do it, so Harold ascends, inch by white-knuckle inch. The stunt is still one of the great coups in movies (this was before rear-projection or digitally erased safety ropes, remember), and Lloyd beautifully wrings every possible complication out of it. That was Lloyd's approach: a simple character, and endless complications. –Robert Horton