Editorial Review of The Lucy & Desi Collection starring Lucille Ball and Desi Arnaz, courtesy of Amazon.com
Besides making television history as the producers and stars of television's immensely popular I Love Lucy and The Lucy-Desi Comedy Hour, Lucille Ball and her husband, Desi Arnaz, starred in three quite agreeable feature films. The Lucy & Desi Collection includes the trio, all in excellent shape, plus a handful of nifty special features of archival interest. Many fans of Arnaz and Ball have probably seen one or both of the movies the duo made in the 1950s, at the height of their TV success: the 1954 The Long, Long Trailer and Forever Darling.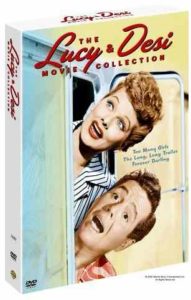 Each is a comically cautionary tale about the dangers to marriage from misunderstandings, miscommunication, and differing goals. But the real find in this box set is the 1940 Too Many Girls, an energetic, Rodgers and Hart musical–direct from Broadway, with three original cast members (Arnaz, Eddie Bracken, and Van Johnson) making their movie debuts in which Arnaz and Ball actually met.
Too Many Girls stars Arnaz as a South American athlete tapped by Princeton's football team to join its squad. The one condition is that he remain undercover until the season begins, forcing him to forgo women. Half-mad from deprivation, he shrugs off Princeton's heavy hand and agrees to join three football buddies hired to secretly chaperone a wealthy man's willful daughter (Ball) to a small, co-ed college in New Mexico.
There the boys join the school's football team and immediately make it a success; of course, they also pitch woo to some comely young ladies. The Rodgers and Hart score is enjoyable, with a couple of minor classics ("You're Nearer" and "€œI Didn't Know What Time It Was"). The best moment, however, is Arnaz and Ball's very first scene together in what would become a historical partnership: Arnaz fainting at the sight of Ball, the first girl he's seen in months.
The Long, Long Trailer, in gorgeous Technicolor and directed by Vincente Minnelli, is a somewhat allegorical tale of a newly married couple who invest in a 40-foot trailer as their first home–and immediately regret it. Well, at least Arnaz's character does; he's the one who has anxiety attacks over operating electric brakes while steering up and down one-lane, mountain roads. Sight gags are plentiful: a scene in which Ball tries to make beef stew, a Caesar salad, and cake in a wobbling, moving trailer is classic Lucy. But there are some genuine dramatic sequences in this handsome movie, too, and the stars rise to the occasion.
Forever Darling concerns the marriage of a sensible if visionary chemist, Lorenzo (Arnaz), and a high society gal, Susan (Ball). The latter can't decide if she should concentrate on entertaining friends and keeping up appearances or joining her husband on a two-year field test of his bug-killing spray. James Mason stars as a handsome guardian angel attempting to steer Susan toward happiness. But along the path toward resolution, lots of mayhem ensues. A lengthy camping scene full of disaster will delight I Love Lucy fans. —Tom Keogh