Duane "Uncle Soapy" Thorpe (1924 – 1995)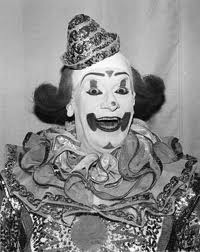 Inducted into the 2000 Clown Hall of Fame. Duane "Uncle Soapy" Thorpe is one of the few clowns to have had a successful career while working for only one circus. (Although Duane was in his fair share of soap gags through the years, his moniker was actually based on a family nickname.) A professional dancer, Duane sought a job with Ringling Bros. and Barnum & Bailey for the fresh air and good food. He was given a job in the wardrobe department. Before long, he was learning to be a web sitter for the aerial ballet. In 1950 he made it to Clown Alley and stayed there until 1986. Duane's list of accomplishments is quite lengthy. A prolific producing clown, he created ring gags, track gags, and numerous walkarounds.
Duane Thorpe was associated with the Ringling Brothers and Barnum & Bailey Circus™ from 1949 to 1990. He was a member of the clown alley for thirty-six years (1950-1986). He was a prolific producing clown, often working with Paul Jung, and created ring gags, track gags, and many walkarounds. When Irvin Feld started the Ringling Brothers Barnum & Bailey Clown College™, he publicly declared the existing clowns with the show were too old to be good clowns. With few exceptions, these old clowns resented the young Clown College graduates. Duane Thorpe was one of the exceptions. He is fondly remembered by many of the graduates because of his willingness to help and encourage them.