Biography of Chico Marx (March 22, 1887 – October 11, 1961)
Leonard Marx, better known to the world as  Chico Marx, was born on March 22, 1887, to Samuel "Frenchie" Marx and his wife, Minnie Schoenberg Marx. Chico (pronounced Chick-o, due to his chasing young ladies) was the oldest Marx Brother. There had been a previous brother, Manfred, who had been born prior to Chico but only lived a few days. Consequently, Chico's mother, Minnie, doted on Chico, much to younger brother  Groucho's consternation.
The Marx's home was unusual in several respects.  Minnie and Frenchie's roles were somewhat reversed, with Frenchie working out of the home as an unsuccessful tailor.  Minnie worked outside as promoter for her brother, the famous vaudeville comedian  Al Shean.  "Absolutely, Mr. Gallagher" "Positively, Mr. Shean".  They were poor, with numerous family members liable to drop in for dinner, taxing Frenchie's creativity with his cooking to the limit.  But the family was loving, and everyone was loved and accepted.
Chico grew up on the streets of New York City, learning to live by his wits. He was very intelligent, and quickly learned numerous small cons and swindles. As a young Jewish man growing up in the inner city, he learned to imitate accents of other ethnic groups in order to stay out of trouble when crossing "territories" controlled by those groups.  Which is the origin of his "Italian" accent that he used so successfully on the stage and screen. He applied his mathematical abilities to quickly calculating odds, which he used in gambling at an early age. However, he often lost, and was not beyond stealing money from his brothers, or pawning his father's tailor shears.
One thing that was part of all of the young Marx brothers' lives was Minnie's plan. Daughter of a magician and a musician, she was adamant that her sons would find success on the stage. In Chico's case, that involved Minnie and Frenchie scraping together enough money to buy a  used piano and even to pay for piano lessons for the young Chico. Chico, however, was not a diligent student, and only practiced the minimum that he could get away with. In addition, he was supposed to pass what he learned on to his brother  Harpo.  But Harpo only learned enough to play two different songs. Groucho Marx one time said that Chico never practiced the pieces he played in the movies, but instead Chico would soak his fingers in hot water before going on.
Chico eventually joined his brothers on stage in a  singing group. Their natural talents for comedy eventually surfaced, however.  After one performance away from Minnie's watchful eye,  the Marx Brothers broke out into some of the madcap comedy for which they would later become famous.  In response to a request for a different act for a second week's engagement, they started performing a comedy sketch titled "Fun in Hi Skule" (1912) which they had seen performed many times in vaudeville. A later sequel, "Mr. Green's Reception" (1913), followed afterward, as did "Home Again" (1914), "The Cinderella Girl" (1918), "On the Mezzanine Floor" (1921). It was during this time that Chico met & married his first wife, Betty Carp, on March 22, 1917. The birth of their daughter, Maxine, followed in January of 1918.
With their change from a musical group to a comedy act, their fortunes had improved.  This led to playing the highest venues, culminating in performing at the Palace. Next came an English tour, where the Marx Brothers were extremely successful, including command performances for royalty. When they returned to America, their success had gone to their head, leading to their alienating E. F. Albee, the most influential man in vaudeville. Chico and the other  Marx Brothers were blacklisted. With vaudeville closed to them, there was only one legitimate venue left to them — Broadway.
The Marx Brothers opened a new stage show, "I'll Say She Is".  After 18 months of testing and fine-tuning they opened in New York to great reviews. This led to a series of successful stage shows, such as "The Cocoanuts" and "Animal Crackers."
Chico (Left) and Groucho Marx at Lunch in the Famous Brown Derby Restaurant in Hollywood[/caption]
1929 should have been a wonderful year for Chico. He and his brothers had completed their first film, "The Cocoanuts," a filmed version of their stage show. However, two cataclysmic events occurred that year —  Chico's mother, Minnie, died after suffering a severe stroke.  Also in 1929, Chico and his brothers lost virtually everything in the stock market crash that signaled the beginning of the Great Depression.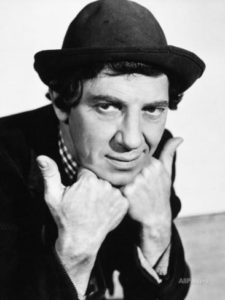 After Minnie's death, Chico became the manager of the Marx Brothers.  As their manager, Chico cut a deal with the movie studio for the Marx Brothers to receive a percentage of their films' gross receipts.  This was a first of its' kind deal in Hollywood.  Also, when the Marx Brothers' film career was in a slump,  Chico had them sign with Irving Thalberg at MGM.  Characteristically, Chico met Thalberg at a poker game.
Chico had a lifelong problem with gambling, causing him to lose all of the money that he earned over the years.   His long-suffering wife, Betty, didn't want the couple to ever own their own home.  She knew that Chico would eventually lose it in a card game.  When asked by a reporter how much money he had lost gambling, Chico replied "Find out how much money Harpo's got. That's how much I've lost."  In addition to his gambling, Chico had a lifelong problem with womanizing, causing much trouble with his wife, who eventually divorced him in 1940.  Years later, he remarried to Mary De Vithas in 1958.
While making their next-to-last film, A Night in Casablanca, Groucho and Harpo required that Chico give them his salary, which they used to put him on an allowance, which continued until his death.  Chico passed away from arteriosclerosis on October 11, 1961 — the first of the Marx Brothers to pass away.  He is entombed in a crypt in the Freedom Mausoleum in  Forest Lawn Memorial Park Cemetery in  Glendale, California. Chico's younger brother  Gummo is in a crypt across the hall from him
Trivia about Chico Marx
Brother of  Groucho Marx,  Harpo Marx,  Zeppo Marx, and  Gummo Marx.
Interred at Forest Lawn, Glendale, California, USA, in the Freedom Mausoleum, Sanctuary of Worship.
Was an avid poker player and is rumored to have had a photographic memory so good, he could memorize the positions of cards in a deck. When a check written by Chico was found in mobster  Bugsy Siegel's wallet at the time of his death, Chico was interrogated by police. He insisted the check was payment of a gambling debt from a poker game. When asked about his knowledge of Siegel's criminal activities, Chico stated, "We never discussed business." Groucho Marx later said of this incident, "Chico was lucky that Bugsy was shot. If Bugsy had tried to cash that check, it would have bounced. Then Bugsy would have shot Chico."
Father of  Maxine Marx, from his marriage to Betty Carp.
What's the shape of the world?" was a question brother  Groucho Marx (playing a teacher, with Chico as a student) asked in one of their early routines; years later, the two used the question to cheer each other up.
Unmade-up and out of costume, the resemblance between Chico and his brother  Harpo Marx was extraordinary. On the TV game show  "I've Got a Secret" (1952), Chico once appeared in Harpo's wig and costume, with the "secret" "I'm Pretending To Be Harpo Marx (I'm Chico)" and fooled all the panelists – including  Groucho Marx.
He was voted as one of  The Marx Brothers the 62nd Greatest Movie Star of all time by Entertainment Weekly.
He was portrayed by actor Irwin Pearl in the Broadway show "Minnie's Boys," which ran an at the Imperial Theatre for 80 Performances from Mar 26 to May 30, 1970.
The famous phrase "Well, who you gonna believe, me or your own eyes?" is often referred to as a  Groucho Marx quote, but it was actually delivered by Chico, in his characteristic Italian accent, in  Duck Soup (1933) , playing the character Chicolini while impersonating Rufus T. Firefly (Groucho).
While filming Horse Feathers, he got into a bad accident, shattering his knee. In some scenes, you can see him limp.
He and Harpo were usually mistaken as twins when they were young.
Chico Marx' birth name was Leonard Marx. The origin of his stage name is a commentary on his habitual womanizing. During the Marx Brothers' vaudeville days, show business slang for a woman was 'chick'.  And Leonard was usually with a woman.  Because all of the Marx brothers were adopting stage names ending with the letter 'O,' Leonard Marx's stage name became 'Chicko,' spelled with the 'K' intact and pronounced with a soft 'I.'  An early Broadway program, however, misspelled 'Chicko,' omitting the 'K.'  Rather than reprint the program, Leonard began spelling his stage name 'Chico'.  The correct pronunciation, however, remained 'Chick-oh,' with the accent on the syllable 'Chick.'  Leonard and the other Marx brothers always used that pronunciation.
W.C. Fields said that The Marx Brothers were the only act he couldn't follow on the live stage. He is known to have appeared on the same bill with them only once, during an engagement at Keith's Orpheum Theatre in Columbus, OH, in January 1915. At the time the Marx Brothers were touring "Home Again".  It didn't take Fields long to realize how his quiet comedy juggling act was faring against the anarchy of the Marxes. Fields later wrote of the engagement (and the Marxes), "They sang, danced, played harp and kidded in zany style. Never saw so much nepotism or such hilarious laughter in one act in my life. The only act I could never follow . . . I told the manager I broke my wrist and quit.".