Irvin 'Ricky' Romig (1920-2010)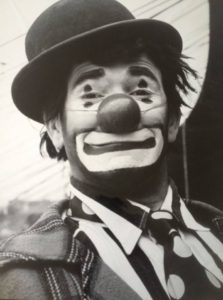 Irvin 'Ricky' Romig was born into show business and was working in the family's acts by the age of four. An acrobatic clown skilled in comedy falls; Irv appeared with many circuses throughout the 1930's and 1940's, including the Walter l. Main Circus, Kelly Miller Bros., and Ringling Brothers and Barnum & Bailey. He also served in the military in World War II, where he also formed a clown troupe to entertain the troops – The Section 8 Gang.
In 1950, he married Rosie Dobo, who appeared with him in The Greatest Show on Earth.
Irv performed over twenty years with the Detroit Shrine Circus. From 1952 through 1964, Irv had a daily television show on WXYZ in Detroit. Five times a week, Ricky the Clown came into people's homes and hearts.
In 2001 Romig was inducted into the International Clown Hall of Fame. Irv Romig passed away on May 23, 2010 after a short illness.
"If   I could do something that was a little outstanding, that nobody else could do, I took pride in that. I think that got into my head through the circus. Anytime I found something that I could do that others couldn't, that made me real happy … inside and all over."