Felix Adler (June 17, 1895 – February 1, 1960) – The White House Clown, King of Clowns
Inducted into the Clown Hall of Fame in 1989.
Felix Adler grew up on a small farm outside of Clinton, Iowa, with his father Joseph and mother Nettie. Some accounts state that he left home and went to join Ringling Brothers Circus at the age of ten or thirteen (accounts differ), although his sister disputes them. In December of 1910, he dropped out of school and a local pharmacist whom he worked for sent him to a Chicago Pharmacist College, instead he started on a career in show business. He later moved to vaudeville, billed as "The Gloom Dispeller" before joining up with the Ringling Brothers.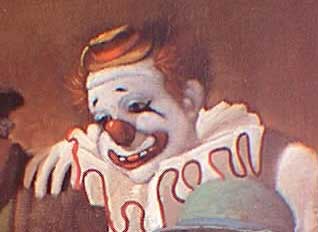 John Ringling refused to allow him to begin clowning until he had received basic training in other fields, such as working with a Chinese acrobatic team. His clumsiness and blunders turned him into a white face clown in a very short time. During his early years with the circus, Felix stayed close to the clowns as much as possible, in order to study their mannerisms, acts, and costumes. He was a perfectionist in comedy and researched what made people laugh.
Felix Adler drifted in and out of the circus, completing work at Iowa State College and serving in World War I.  He served as a mess sergeant at Camp Dodge in World War I.  During this time, he and his pet rooster often entertained the troops.  But he looked forward to returning to the circus and after the war he returned to Ringling Bros. for the duration of his career. For 28 years, from 1919 to 1946, Felix Adler never missed a performance
With the Ringling Brothers Circus, Felix waddled the rings in a droopy clown suit with padded hips and rear end. He had a jewel in his nose, wore tiny hats, carried a tiny umbrella and was followed by a piglet which he trained to climb a small ladder and slide down a greased slide to receive milk from a baby bottle as a reward. These pigs made their debut only after intensive training from Felix and later his wife, Amelia. Once the pigs grew too large for entertainment purposes, they were given to families along the road.  More than 360 piglets were trained during Felix Adler's career.  After his marriage in 1948, all of the piglets were named "Amelia" in her honor.
One of Felix Adler's funniest performances was unplanned.  During a "big bad wolf" act, a pulley broke loose from some of the high tackle and hit Felix, knocking him unconscious.  The pigs started climbing all over Felix and making great noise.  The audience was delighted, believing it to be part of the act.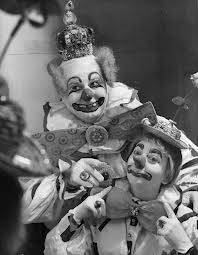 He and his wife, Amelia, were the first American husband and wife clown teams. Felix was also the first clown ever to be seen on television. He also had the honor of performing for three United States Presidents; Warren Harding, Calvin Coolidge, and Franklin D. Roosevelt. He was called the White House Clown. He died in 1960.
Felix Adler can be seen performing in the movie The Greatest Show on Earth
The legacy of Felix Adler, King of Clowns, continues each June as the town of Clinton, Iowa celebrates "Felix Adler Days". A children's museum, known as the "Felix Adler Discovery Center", has also been created in downtown Clinton.