Harpo Marx – I Love Lucy season 4 – originally aired May 9, 1955
In Harpo Marx, Lucy Ricardo's (Lucille Ball) tendency to "exaggerate" again lands her into trouble, as she's been bragging in her letters back home to Carolyn Appleby about all of the famous Hollywood stars. However, Carolyn is stopping by on her way to Hawaii, and is looking forward to meeting all of her celebrity friends. However, she doesn't really have any, and her husband Ricky Ricardo (Desi Arnaz) doesn't want anything to do with it, and heads down to the hotel's pool to lounge around with Fred Mertz (William Frawley).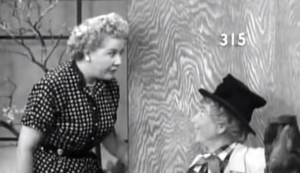 Lucy, however, is not about to give up, and coerces Ethel Mertz (Vivian Vance) to help her in trying to fool the near-sighted Carolyn into thinking that she's meeting Hollywood stars. With the help of face masks of various celebrities, Lucy plans to hide Carolyn's glasses and then impersonate the stars. However, there are two impediments to this plan. First, Carolyn is keeping her glasses attached with a lanyard around her neck. In a funny bit, Lucy and Ethel cut the cord and then steal the glasses. While Lucy steps out of the room, she re-enters disguised as various stars, to impress the near-sighted Carolyn. The second impediment? Ricky and Fred run into the real Harpo Marx and ask him to go upstairs and surprise Lucy and her friends.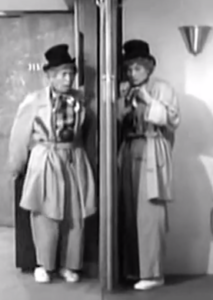 However, when Harpo arrives, Lucy is impersonating another Hollywood star — Harpo Marx, of course! This gives Harpo the opportunity to do some of the zany slapstick that he is known for, as well as playing "Take Me Out to the Ball Game" on his harp — absolutely beautiful to hear. After Carolyn has left, Lucy and Harpo have the opportunity to replicate the famous "mirror routine" from Duck Soup, with Lucy duplicating Harpo's moves, as if she were his reflection. It's a classic, very funny scene, ending with Ricky and Fred entering the room, impersonating Groucho and Chico Marx.
Harpo Marx is a very funny episode, featuring two of my favorite screen clowns, Harpo Marx and Lucille Ball. I rate it a very solid 4 clowns.
Harpo Marx is available on DVD as part of the I Love Lucy season 4 DVD collection, as well as on I Love Lucy the complete series.
Funny quotes from I Love Lucy – Harpo Marx
Lucy Ricardo (Lucille Ball): Ricky, I'm not asking for much. All I want is a half a dozen movie stars for a couple of hours. And if you can't do this simple little task, I'll … I'll kill myself!
Ricky Ricardo (Desi Arnaz): Kill yourself.
Lucy Ricardo (Lucille Ball): Yes.
Ricky Ricardo (Desi Arnaz): Well you've got a lovely day for it.
---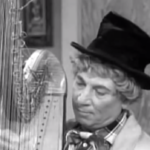 Lucy Ricardo (Lucille Ball): [squinting at Ethel] I'm trying to see if a nearsighted person could mistake you for Marilyn Monroe.
Ethel Mertz (Vivian Vance): [excited] And?
Lucy Ricardo (Lucille Ball): Nobody's that nearsighted.