Lucy and Superman – €"I Love Lucy season 6, episode 166, originally aired January 14, 1957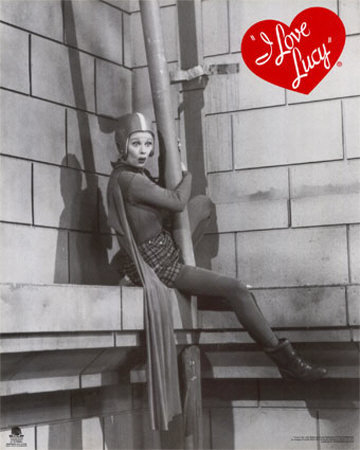 In Lucy and Superman, Lucy Ricardo (Lucille Ball) has been having a '€˜friendly' rivalry with Carolyn Appleby for several years now over their respective children. When both mothers plan birthday parties on the same day, with the same list of children to attend, they pull out all of the stops. Carolyn Appleby promises to have a magician, and a clown, and other things – what can Lucy top her with? Superman!
This story is set during the heyday of the Adventures of Superman television series, starring George Reeves as both the Man of Steel and Clark Kent, who just happens to be in town that weekend. Lucy is certain that her husband Ricky (Desi Arnaz) can pull strings to have Superman appear at Little Ricky's birthday party, and so she wins the battle of the birthday parties. Until Ricky is unable to get Superman to appear!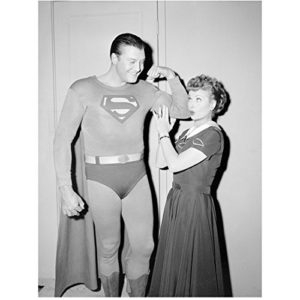 Desperate, Lucy cobbles together her own Superman costume, and intends to dash thru the apartment, entering from the ledge outside of the window, surprising the children with their visit from Superman. However, Ricky manages to bring Superman at the last minute, with Lucy unintentionally locked out on the window ledge – €"and then it starts to rain as well! A very funny episode, and recommended viewing.
Lucy and Superman is available on the season six I Love Lucy DVD collection.
Funny quotes
Ethel Mertz (Vivian Vance): [as little Ricky runs by in a Superman costume] Oh boy! There goes Superman!
---
Lucy Ricardo (Lucille Ball): [to pigeons on the ledge] Shoosh! Go deliver your messages!
---
Superman (George Reeves): [To Ricky] Mr. Ricardo, do you mean to tell me that you've been married to her [Lucy] for fifteen years?
Ricky Ricardo (Desi Arnaz): [Already in a temper] Yeah, fifteen years!
Superman (George Reeves): [with amused awe] And they call me Superman!
---
Lucy Ricardo (Lucille Ball): If I don't get Superman, my name will be "Supermud"!
---