Ricky's Hawaiian Vacation, I Love Lucy season 3, originally aired on March 22, 1954
Ricky gets a gig in Hawaii and Lucy goes on a TV game show to win tickets so she and the Mertzes can go along.
Frank Nelson appears once more as the emcee Freddie Fillmore on the "Be a Good Neighbor" TV quiz show — where, unexpectedly, Ricky is going to "help" Lucy win the prize. Ricky protected with a rain coat and shower cap — although Lucy is not.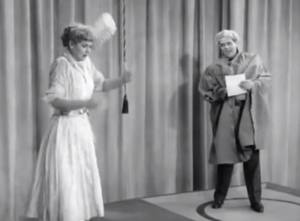 In order to win the prize, Lucy simply has to stand within a circle on the stage, while Ricky is given a list of items — and has to sing a line from a song with one item from the list. This leads to a very funny bit of slapstick comedy, as the different things that he sings falls on Lucy, including:
"I'm putting all my eggs in one basket" – eggs (and basket) fall on Lucy
"How deep is the ocean" – Lucy gets doused with water
"I'm in love with you … honey." – Lucy gets doused with sticky honey.
"Say you love me, do, honey." "Not again!" – Yes, again.
"Just around the corner, there's a rainbow in the sky, so let's have another cup of coffee, and a pie of …" — which Ricky intentionally takes too long to finish, losing the contest, with Lucy screaming "Pie, you idiot! Pie" — only to be duly hit with a lot of pie.
Funny quotes from Ricky's Hawaiian Vacation
Lucy Ricardo (Lucille Ball): Are you sure he's going to help me?
Ricky Ricardo (Desi Arnaz): [singing] I'm in love with you …
Lucy Ricardo (Lucille Ball): No! Not that!
Ricky Ricardo (Desi Arnaz): honey … [Lucy gets doused with honey]
Ricky Ricardo (Desi Arnaz): [singing] Say you love me, do …
Lucy Ricardo (Lucille Ball): Not again!
Ricky Ricardo (Desi Arnaz): honey … [Lucy gets doused with honey again]