The Fashion Show – I Love Lucy season 4, episode 117, originally aired 2/28/1955
Out in California, Lucy wants to buy a dress from the famous designer, Don Loper. Much to her surprise, Ricky says yes! At the dress shop, she is first shocked at the price of the dresses – 500 dollars (in 1955)! Her next surprise is more pleasing, as she overhears Don Loper talking about a fashion show where the models will be wives of movie stars … and one of them has had to drop out at the last moment.
Never one for shyness, Lucy loudly drops the hint that she's the wife of Ricky Ricardo, movie star, and that she would be willing to be in the fashion show. Don Loper invites her to be in the show, and she accepts. She also buys a new dress – for 500 dollars. Back at their hotel room, Lucy schemes how to forestall Ricky's anger at her spending that much on a dress. She decides to get not a tan, but a sunburn, in order to get Ricky's sympathy. Her plan works all too well, and she is as red as a lobster. Then, Don Loper calls and asks her to wear a different dress, a tweed suit, in the show – if she'll accept, he'll let her have that new dress for nothing.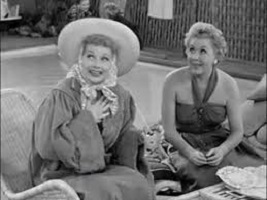 Lucy accepts, and wears the itchy tweed suit in the fashion show, sunburn or no! After some funny business at the show, Lucy gets her new dress for free – as well as a check for 500 dollars from Ricky, who wanted her to get her expensive new dress. Sunburned or not, Lucy is no fool and tucks the check away for safe keeping.
The Fashion Show is available on the season 4 I Love Lucy DVD collection.
funny quotes from The Fashion Show – I Love Lucy
Lucy Ricardo (Lucille Ball): Well, there's only one thing to do. [walks over to the balcony, pretending to go over the edge] Well, aren't you going to stop me?
---
Ethel Mertz (Vivian Vance): You don't know anything about raising oranges.
Fred Mertz (William Frawley): So what, the oranges know what to do.
---
Fred Mertz (William Frawley): [seeing Lucy sunburned] Hey, that gives me an idea! If the orange crop fails, I can raise tomatoes!
---
Ethel Mertz (Vivian Vance) [thinking that Fred is agreeing to buy her a Don Loper designer dress] Fred, do you really mean that?
Fred Mertz (William Frawley): Sure!
Ethel Mertz (Vivian Vance): Oh.
Fred Mertz (William Frawley): What do you think he'll charge for one label?