Lucy Gets Chummy with the Neighbors, I Love Lucy season 6, originally aired February 18, 1957
Lucy Gets Chummy with the Neighbors begins with Lucy Ricardo (Lucille Ball) and her husband Ricky (Desi Arnaz) at breakfast, where Lucy quickly turns the conversation to … new furniture for their new house in Connecticut. After a few moments' wheedling, Ricky gives in and gives Lucy a budget of $500. Their new neighbor, Betty Ramsey (Mary Jane Croft), comes over and offers to take Lucy to a furniture wholesaler where they can save 40%.
Expensive furniture option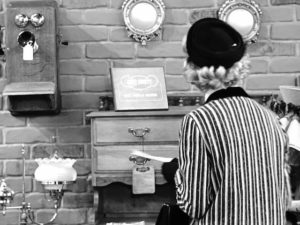 While there, Lucy tries to take a sneak peak at the prices, and is floored when the salesman announces the actual cost – well over her budget. Since Lucy wants to keep up appearances, she goes along and spends …. over 3,000 dollars! She calls Fred (William Frawley) and Ethel Mertz (Vivian Vance) for help, and tightwad Fred faints at the thought of spending $3,000 on furniture!
Waiting for Fred and Ethel to arrive, Ricky unexpectedly arrives home, and Lucy traps his foot in the front door while trying to explain the situation. In a funny moment, Ricky slips his foot out of his shoe while she's talking, and comes in the side door. Once he comes in, they have a surprisingly adult conversation, that escalates into Ricky giving an ultimatum — all the furniture goes back!
Hurt feelings and fights
Betty comes in, and Lucy tries to save face, and ends up with Lucy insulting Betty's taste, and Betty leaving in a huff. Ricky goes next door to have a "man to man" talk with Betty's husband, played by Frank Nelson. Once there, they get along well until Ricky mentions that he wants to return the furniture, ending with the two men going outside to have a fist fight.
Fred and Ethel arrive, and Ricky comes in disheveled after his fight, yelling in Spanish. After a moment, Little Ricky comes in, also beaten up — followed by by the Ramsey family. Fred interrupts the verbal fight, and Ethel explains the situation. The young boys soon make up, as do the adults. Now that the neighbors are talking to each other again, Ralph re-offers Ricky a spot on a TV show. Which will pay just enough to pay for the furniture!
Funny quotes from Lucy Gets Chummy with the Neighbors
Betty Ramsey (Mary Jane Croft): You don't want to mix up these beat up old things with your lovely new things.
Lucy Ricardo (Lucille Ball): Well, I don't want to …
Ethel Mertz (Vivian Vance): [to Fred] It's Lucy, and she's in trouble!
Fred Mertz (William Frawley): Hang up!
Ralph Ramsey (Frank Nelson): You can forget about that TV show, we'll get Cugat!
Ethel Mertz (Vivian Vance): Aren't you going to introduce us?
Lucy Ricardo (Lucille Ball): These are our friends, the Mertzes; these are our enemies, the Ramseys.