A Girl in Every Port (1952) starring Groucho Marx, William Bendix, Marie Wilson
Editorial review of A Girl in Every Port, courtesy of Amazon.com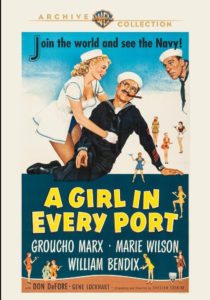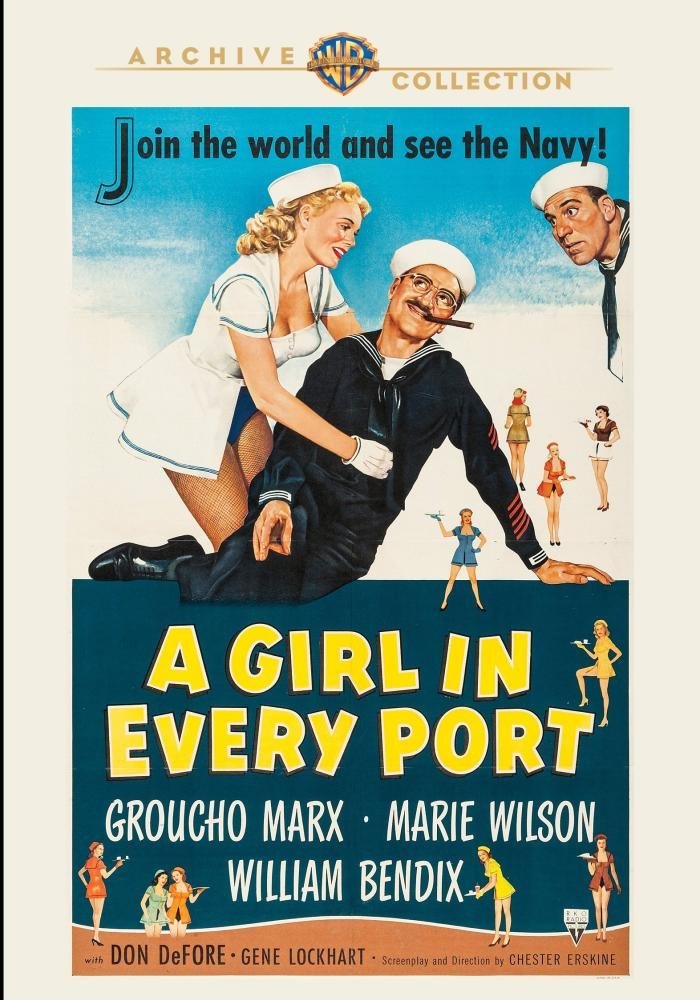 Groucho Marx's last leading role sees him deploying all his patented patter and double-talk as a Navy lifer out to save a pal from his "inherited" racehorse. Navy seaman Benny Linn (Marx) is flabbergasted when his pal, Navy seaman Tim Dunnovan (William Bendix), squanders his inheritance on Little Erin, a horse he's never seen. Talking their put-upon superior into granting them five days leave in order to unswindle Dunnovan, Benny sets to shore with purpose and chicanery in mind. Tracking down the horse's trainer (Gene Lockhart), the salts discover their seemingly lame horse has a secret twin – Little Shamrock – owned by lovely carhop Jane Sweet (Marie Wilson). In short order, we have fake Southern gentlemen, switched and double-switched equines, angry gangsters, stumbling saboteurs and one henpecked businessman (Don DeFore), who may just be Jane's true love. In order to save the day, it's time for Groucho to ride!
Funny movie quotes from  A Girl in Every Port
Jane Sweet: Why, they're twins all right — and they have the same father and mother, too.
---
I rented him out to a vegetable farm – and he can eat all of the vegetables he wants. He doesn't like vegetables, though – he likes hay.
---
Benjamin Franklin 'Benny' Linn: [speaking of his closeness with a former girlfriend] We were as one. Maybe less than that.
---
Jane Sweet: [giving a jockey instructions before the race] Make sure to come in first. Then he'll be certain to win.
Benjamin Franklin 'Benny' Linn: Try not to come in before the horse.
---