Professor Paul Wenzel was born in 1878, and performed as  a circus clown for over 60 years throughout the United States of America. Paul Wenzel appeared with large and small shows before finding a permanent home with the Ringling Bros. and Barnum & Bailey Circus.
He was a tall (6'4 ") man, slim and easy to identify in his  checkered yellow costumes and  clown wig hair. Paul Wenzel appeared and preferred to work with geese and excelled in the art of preparing eccentric elaborate props and costumes, made from piano wire and silk. At least one of them has been repaired and reconditioned, and is in the custody of the Ringling Brothers' circus.
He even created huge silk suits and wire for the elephants of Ringling, transforming them into things such as clowns and huge butterflies.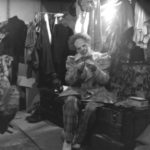 His  props and costumes can be seen in Cecil B. DeMille's  movie,  The Greatest Show on Earth.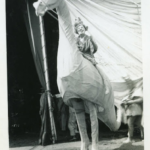 In 2014, Paul Wenzel was inducted into the Clown Hall of Fame.