Editorial review of A Countess from Hong Kong, (1967) starring Marlon Brando, Sophia Loren, directed by Charlie Chaplin, courtesy of Amazon.com

 Charlie Chaplin's last film is the cinematic equivalent of Willie Mays staying too long in baseball–a sad farewell from someone who has clearly lost his touch. Marlon Brando (who famously did not get along with Chaplin and initiated, with this film, his curious habit of undermining his directors' best intentions) plays an American millionaire leaving Hong Kong to assume an ambassadorship. He discovers Sophia Loren–playing a daughter of Russian aristocrats and a former gangster moll–concealed in his closet onboard the outbound ship, hoping to gain passage to the States.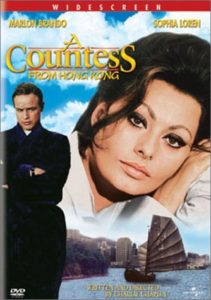 Brando, looking none too pleased, agrees to help her, with not terribly comic or romantic results. Chaplin's one modestly clever touch is to have the camera rock gently and slowly back and forth, ostensibly emulating the movement of the luxury liner. The humor falls flat, Brando and Loren have no chemistry, and the story isn't terribly engaging. The former Little Tramp appears, mercifully briefly, as a seasick steward who opens and closes a door, swooning in between. Appropriately enough, in silence. —David Kronke
Trivia for A Countess from Hong Kong
Last film directed by Charlie Chaplin.
Charlie Chaplin's final acting appearance is in a cameo as an old steward. Since nearly all of the characters he portrayed in films prior to the 1940s were not identified by name, it is appropriate that his final character also be nameless.
Charles Chaplin originally conceived the idea for this movie 30 years previously (and was titled "Stowaway"), as a starring vehicle for his then-wife Paulette Goddard.
During filming in 1966 at England's Pinewood Studios, the 77-year-old Charles Chaplin was walking around outside discussing ideas when his foot got caught in a grate and he broke his ankle. It was the first serious injury he ever sustained.
It was the first film by Charles Chaplin to be not only in widescreen (which he disliked – see A King in New York) but in color as well.
At the premiere in 1967 in London, the film that had been shown just previously had been projected using a special spherical lens. The projectionist had forgotten to take it off for this film. The result was a distorted spherical image. Many critics instantly blamed it on Charles Chaplin"s "tired" directing techniques. This was obviously not the case, but the film did badly at the box office and Chaplin himself went into deep depression.
The only feature film by Charles Chaplin to be funded by a major studio, Universal. Also, he had the largest budget of all his films, $2 million.
The role of Ogden Mears was offered to Rex Harrison, who turned it down. Marlon Brando took the role and spent much of the film clashing with Charles Chaplin.
The film was shortened by approximately 15 minutes since its premiere. In an interview, Charles Chaplin said he felt the shortened version (which is the version currently available on home video and DVD) almost did not feel like his film and that he preferred the longer one.
Petula Clark had a major hit with her recording of This is My Song, an adaptation of a piece of music Charles Chaplin wrote for this film. Chaplin reportedly did not care for Clark's version, though it ultimately turned out to be the only successful aspect of the film, reaching #1 in the British charts. Just months later Harry Secombe took the song to #2 in Britain.
While Marlon Brando had always greatly admired Charles Chaplin's work and looked upon him as "probably the most talented man the movie medium has ever produced,"€ the two superstars didn't get along during the shooting. In his autobiography, Brando described Chaplin as "€œprobably the most sadistic man I'd ever met." Chaplin, on his side, said that working with Brando simply was "impossible"€.
Sophia Loren didn't get along with Marlon Brando during the shooting especially after the day they were doing a love scene and he commented, "Did you know you have hairs up your nostrils?"€.
Charlie Chaplin wanted Al Jolson to record the theme song "This Is My Song", and only accepted that Jolson died in 1950 when shown a picture of his grave. The song, with Chaplin's old-fashioned lyrics, proved difficult to record, with Petula Clark very reluctant, and Harry Secombe dissolving into giggles when he tried to sing the words.