The Pilgrim (1923) starring Charlie Chaplin, Edna Purviance

 In  The Pilgrim, Charlie Chaplin plays his traditional  Charlie the Tramp role, as an escaped convict trying to head as far away from the prison as possible.   He quickly ditches his prison uniform, and 'borrows' a minister's clothing and hat instead.   He goes to a train station, hoping to ride as far away as possible.  But before he can enter, a young couple, hoping to elope, spy him.  They want him to marry them before the girl's father arrives.   They immediately chase after him, and Charlie, not knowing what's going on tries to run away, only to run into a police officer.  Charlie becomes like a human ping-pong ball between the couple, the police officer, and the young woman's father.   In this film,  wherever Charlie turns, he seems to  be running into police officers  – to good comic effect
, since he wants to avoid them like the plague.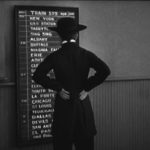 Eventually, Charlie makes it into the train station and, covering his eyes, chooses a destination at random – Sing Sing! (for those who don't know, the location of a famous prison) Trying again, he picks Texas; throughout the movie, the theme music is I'm Bound for Texas – written by Charlie Chaplin, of course.   Charlie's history tends to betray him, as when he goes to board the train,  he climbs underneath, hobo-style.  Until a conductor has him come on board, where he rides in luxury, next to a man reading a newspaper.
The newspaper has Charlie's photograph and an account of his daring prison escape, making Charlie more nervous.   His nerves are totally shot when the man (Henry Bergman) turns toward him, revealing his lawman's badge!   Despite this, Charlie gets off the train without being discovered, and due to a twist of fate, is met at the train station by a local congregation who have come to welcome their new minister, the Reverend Mr. Pim.  Charlie is forced to impersonate the reverend.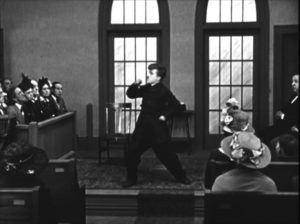 This leads to several very funny moments, as he has to 'lead' worship in a small church, where he clearly has no clue.  Anybody who's been to a church, and uncertain when to stand up and when to sit down, will appreciate that scene.   Next, Charlie Chaplin has to give a sermon.  And this is a silent film, after all, and so Charlie the Tramp does a very good job pantomiming the story of David and Goliath.
Afterward, he goes to have a quiet Sunday dinner with one of the parishioners.  Where he's taken with her lovely daughter, played by Chaplin regular  Edna Purviance.   A young couple comes to visit as well,  bringing their bratty son.  The boy terrorizes both his father (played by Charlie's real-life brother, Sydney Chaplin) and the 'pastor'.  As well as making sure that the cake for dessert is ruined, courtesy of his father's hat.  It's a very funny scene, and I'm not going to give it away, other than to say you have to watch in in the context of the movie to truly appreciate it.
Charlie Chaplin has a problem, however, as his former cellmate recognizes him, and invites himself along,  He begins by trying to pickpocket the other guests, which Charlie manages to prevent.  The convict then tries to steal the 'widow's mortgage'.   A very funny scene, where Charlie Chaplin demonstrates his physical comedy skills.   The thief gets away, with Charlie the Tramp in pursuit …  And the lawman comes by to tell Edna that he won't be back, and shows her Charlie's wanted poster.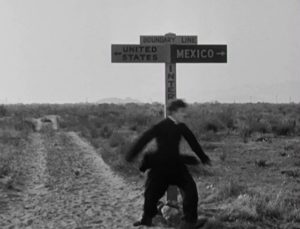 Despite this, Charlie does find the thief, and in a  very funny act of bravado manages to steal the money back.   A hectic chase ensues, but by the morning Charlie returns the money to Edna, only to be taken into custody by the lawman …  Who has seen the repentant thief returning the money, and decides to give him a second chance.   He takes him to the border between the U.S.A. and Mexico, and orders Charlie the Tramp to fetch him some flowers from the Mexican side. Which Charlie does, not realizing that on the Mexican side he's as free as a bird.   After a few more tries, he realizes what the lawman is doing, and thinks he's safe …  Until a gunfight erupts on the Mexican side, leaving the Tramp to march away, straddling the international line away from the camera as the credits role.
The  Pilgrim is a very funny film, highly recommended.  It is available on DVD as part of  The Chaplin Revue.  It's also on DVD as part of the more-complete  Chaplin Collection volume 2.
Trivia for Charlie Chaplin's The Pilgrim
This was the last film in which Charlie Chaplin co-starred with Edna Purviance. Chaplin would direct and have a cameo in her next film,  A Woman of Paris: A Drama of Fate  (1923).  He also produced her lost film,  A Woman of the Sea  (1926).  She would have cameos in a couple of his later films as well.  But this was their last major acting work together.
The bratty boy was played by Dean Riesner, associate director Charles Reisner's son. In later years, Dean recounted how he did not want to slap Charlie Chaplin's face.  Even though the story called for him to do so. So Charlie Chaplin and his brother/co-star Sydney Chaplin continually slapped each other's faces to convince Riesner what fun it was.