The Chaplin Revue (1959) — containing A Dog's Life, Shoulder Arms, Sunnyside, A Day's Pleasure, The Idle Class, Payday, and The Pilgrim
Synopsis of The Chaplin Revue:

 The Chaplin Revue is a 2 DVD set of some of Charlie Chaplin's finest silent films. In 1959, Charlie Chaplin created "The Chaplin Revue" by stringing together A Dog's Life, Shoulder Arms, and The Pilgrim together with some new footage to connect the three films together.   In addition to those three, the DVDs also include Sunnyside, A Day's Pleasure, The Idle Class, and Pay Day.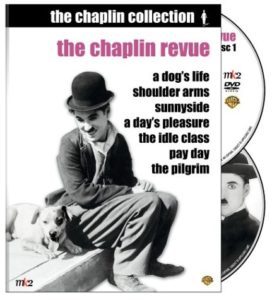 The set is made of a new digital transfer of the pictures, and remastered sound, with excellent quality. Also included as extras on the DVDs are documentaries, behind the scenes video of visitors to Chaplin's sets, Harry Lauder (1918),€ footage that Chaplin and the great British Music Hall comedian shot for an uncompleted short film, Photo gallery, film posters, How to Make Movies (1918) – a short film in which Chaplin shows the building of his new studio, and how movies are made there, The Bond (1918), WWI propaganda film featuring Chaplin, his brother Syd, and Edna Purviance.  As well as Shoulder Arms deleted scenes.
Now, it should be mentioned that you can also get The Chaplin Revue (as well as the other 4 films) on The Chaplin Collection, Vol. 2  (City Lights / The Circus / The Kid / A King in New York / A Woman of Paris / Monsieur Verdoux / The Chaplin Revue / Charlie – The Life and Art of Charles Chaplin) which, depending on your tastes, might be a better "bang for your buck" – but, at the price of under $30.00, The Chaplin Revue is a good introduction to Chaplin's classic comedy.
I rate it 4 clowns on a 5-clown scale.
Amazon.com essential video
Seven Charlie Chaplin two-reelers are included on this two-disc set, including The Chaplin Revue, a 1959 compilation comprising three silent comedies ( A Dog's Life, Shoulder Arms, and The Pilgrim ). Among the high points are the flawless A Dog's Life, in which the Tramp befriends a mutt (among its sublime routines is a superbly executed scene with Chaplin stealing pastries from a street vendor), and the ambitious Shoulder Arms , which sends Charlie to the trenches of World War I. There'€™s also
There's also The Idle Class , which casts Chaplin in two roles: as the Tramp, and as a foppish rich man with a weakness for drink (and a weakness for absent-mindedness, in a brilliant scene in which he forgets his trousers). A Day's Pleasure is a lark with good gags aboard a swaying boat, while Sunnyside is downright peculiar at times — though Chaplin's addled dance with imaginary nymphs is pure acrobatic daffiness. —Robert Horton
DVD features of The Chaplin Revue
Biographer David Robinson introduces each disc with background on the films. Among the extras are deleted scenes from Shoulder Arms and a nine-minute, uproarious sequence cut from Sunnyside . There's also The Bond , a fund-raising wartime film, plus a home movie with Harry Lauder, and How to Make Movies , Chaplin's whimsical behind-the-scenes look at his studio. The three shorts in The Chaplin Revue can be accessed separately, but only as chapters of the feature — i.e., when you finish one short, the next one will start playing. —Robert Horton
Description of The Chaplin Revue
That Charles Chaplin's Little Fellow (his own name for the Little Tramp) is such a Comic Everyman enabled the master moviemaker to place the character in all manner of situations. That versatility abounds in this treasure chest of seven marvelous movies made for First National between 1918 and 1923. Included are such touchstones as Shoulder Arms (his popular portrayal of World War I trench life), The Idle Class (skewering the rich) and The Pilgrim (lampooning small-town hypocrisy), along with the charming and hilarious views of family life and romance in A Dog's Life, A Day's Pleasure, Sunnyside and Pay Day.
Trivia about The Chaplin Revue (2 Disc Special Edition):
Reportedly Charlie Chaplin's favorite among his own short films.
This is Chaplin's final short film.
Originally planned at five reels; outtakes were preserved in Chaplin's private collection. True Boardman Jr., Marion Feducha and Frankie Lee played Chaplin's sons in cut domestic scenes intended for the beginning of the film. Peggy Prevost and Nina Trask portrayed draft board clerks, Alf Reeves a draft board sergeant, and Albert Austin a doctor in a cut scene at the draft board office.