Tramp: The Life Of Charlie Chaplin, by Joyce Milton
Description of  Tramp: The Life of Charlie Chaplin
Charlie Chaplin (1889 – 1977) was one of the most loved, hated, and gossiped-about figures in film history. On screen the handsome actor delighted viewers with his "Tramp" character, but off screen he betrayed friends and colleagues, stole ideas, evaded taxes, and developed a reputation as a seducer of startlingly young women. Tramp traces Chaplin's life and career, from his childhood in the slums of London, through his early days as a music hall entertainer, to his meteoric rise and astonishing success in the American film world (including seventy-one films by age thirty-three), and his exile in Europe in the McCarthyist 1950s. Attributing some of his disturbing behavior to manic-depression, Milton confronts his troubling views, especially on politics, while celebrating his artistic genius in this probing and revelatory biography.
Editorial review of  Tramp: The Life of Charlie Chaplin courtesy of Amazon.com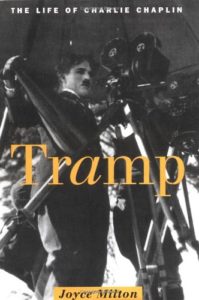 Charlie Chaplin is an enigmatic figure: famous throughout the world in the early days of Hollywood, his celebrity as the silent movie tramp/clown endures; yet he was also active in radical social politics, and later went into exile amid a swirl of rumor and invective concerning his Communist Party connections. Chaplin wrote his own rather selective autobiography, and has been the subject of several memoirs. Milton deals with his tempestuous marriages and with his work, but concentrates on his political life. She analyzes his political naiveté and inconsistency, while locating the source of his left-wing sympathies. The image of the tramp, it transpires, was no accidental movie persona.