Charlie Chaplin: Intimate Close-Ups, by Georgia Hale
Description of  Charlie Chaplin: Intimate Close-Ups

 Many remember Charlie Chaplin's comic masterpiece, The Gold Rush, as the finest blend of comedy and farce ever brought to the screen. Far fewer remember its heroine, Georgia Hale (1900-1985).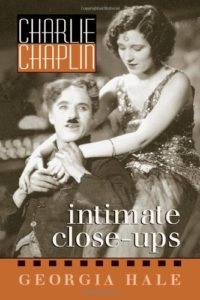 Seventy years after the film's appearance, Heather Kiernan brings Georgia Hale back to life in this edition of her hitherto unpublished memoirs. Research work embodied in her perceptive introduction clears up many uncertainties about Hale's life and provides an outline of her most significant years.
Hale's own chief purpose was to describe her long and close relationship with Chaplin and his dual personality, which made the relationship at times a love-hate one. As Chaplin's constant companion during the years 1928-1931, she became a part of his social circle, meeting people as diverse as Marion Davies, Sergei Eisenstein, Ralph Barton, and Albert Einstein. The memoir effectively ends with Chaplin's marriage in June 1943 to Oona O'Neill.
This unique book contains illustrations from the Chaplin archive, most of which are published here for the first time.