Caught in a Cabaret, starring Charlie Chaplin, Mabel Normand originally released April 27, 1914
Caught in a Cabaret is another Mabel Normand film where Charlie Chaplin begins to steal the show.  Caught in a Cabaret has Charlie the Little Tramp overworked as a waiter in a cafe, who gets a free hour off from work and unexpectedly rescues Mabel from a mugging.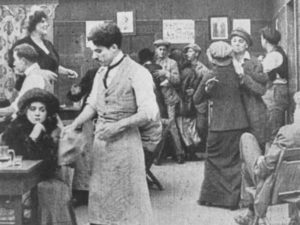 She invites him to her home, where he's invited to a party.  Along the way, in an effort to impress her, he presents a card falsely identifying him as the Greek Ambassador.   Her jealous boyfriend follows Charlie back to the restaurant.  The boyfriend plans to get even with Charlie at the party.  He invites everyone to Charlie's cafe afterward, in order to humiliate Charlie.
Trivia for Caught in a Cabaret
Other classic Keystone silent film stars appearing in Caught in a Cabaret include Chester Conklin, Edgar Kennedy and Hank Mann