Cruel, Cruel Love (1914) starring Charlie Chaplin, Minta Durfee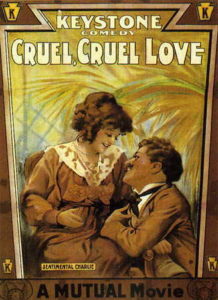 This early Charlie Chaplin film doesn't have him playing the little tramp.  Instead, he plays a rich, upper-class gentleman.  Whose romance is endangered when his girlfriend sees him being embraced by a maid. Jilted by his fiancee, Chaplin plans to commit suicide.  However, his butler replaces his glass of poison with water, allowing his fiancee to be able to rush to his "deathbed" and all ends well. Chaplin's romantic interest in this film, Minta Durfee, was the wife of fellow Keystone actor, Roscoe "Fatty"€ Arbuckle.
Trivia about Cruel, Cruel Love starring Charlie Chaplin
Cruel, Cruel Love was presumed a lost film for 50 years.  However, a complete nitrate copy was discovered in South America.  Cruel, Cruel Love€ was then copied and its original two-reel format is available for sale.
Some sources erroneously credit Chester Conklin and Alice Davenport in the roles of Chaplin's butler and Durfee's maid respectively; reliable sources now confirm that Edgar Kennedy plays the butler and Eva Nelson plays the maid.